CARTITUDE Trial Announcement
RTE.ie, Fergal Bowers: 'Blood cancer clinical trial to begin at St James's Hospital' 
Fergal Bowers reported on the announcement in an online article on the RTE News website. The article is available here.
RTE Radio 1, 'News At One' with Bryan Dobson'
Dr Larry Bacon was interviewed about the announcement of the trial by Bryan Dobson on today's RTE Radio 1 'News At One' radio show. The clip is available to listen back to here.
The Irish Times, Paul Cullen: 'Drug trial to start for blood cancer patients
Paul Cullen, Health Editor of The Irish Times interviewed Dr Larry Bacon and reported on the announcement. A press clipping is attached from this morning's print paper and the online version of the article is available here.
Previous news
CRF is happy to share the video 'Hormones explained for teens' for Science Week Ireland 2022, RTE Kids – co-wrote and presented by Dr Roshaida Abdul Wahab.
Dr. Roshaida is a clinician scientist, originally from Malaysia. She obtained a degree in medicine and a master's from Trinity College Dublin followed by a PhD from UCD. She specialised in pathology during her studies, and currently holds the diplomateship of the UK's Royal College of Pathologists. She is now at the final stage of completing her FRCPath (UK) in Chemical Pathology specialist examination.
(16th November 2022)
CRF was shortlisted for the 2022 Irish Healthcare Centre Awards
04/05/2022 –  Irish Healthcare Centre Awards – https://www.irishhealthcarecentreawards.com/shortlist
Winning the fight against cancer: 'It's just miraculous'
02/04/2022 Irish Times – https://www.irishtimes.com/life-and-style/health-family/winning-the-fight-against-cancer-it-s-just-miraculous-1.4840373
Groundbreaking new treatment for babies with muscle-weakening condition
11/10/2021 – Irish Times https://www.irishtimes.com/news/ireland/irish-news/groundbreaking-new-treatment-for-babies-with-muscle-weakening-condition-1.4696664
Medical Device
A Dublin 8 medical device start-up company have invented a new medical device for better lung biopsy outcomes from St. James's Hospital to the Guinness Enterprise Centre.
The first day of Summer took our radiologists and respirologists into the heart of Dublin 8.  Selio Medical (https://seliomedical.com/ ) is a TCD spin-out company that has developed a novel device for lung biopsies that reduces the risk of pneumothorax, which can often lead to a long inpatient stay.  The device relies on an advanced hydrogel that seals the lung and stops air leaking into the chest cavity.  Selio has finished the design and development of the product and has completed animal studies.  The next step is to conduct clinical trials that confirm the product's safety and St. James's hospital  has the opportunity, along with hospitals in the UK and France, to be among the first users of this device.
As a TCD affiliated teaching hospital, St. James's hospital has always been an active place for the conduct of clinical trials.  The big difference is that Selio is a local company located between the hospital and the university, barely 800 metres from the hospital and 2Km from TCD.  Ireland's economic future relies on the smart economy and this is an example of how innovation takes place and develops a commercially viable product that can improve outcomes for patients.  It also illustrates the role TCD and St. James's can play in medtech innovation and local economic development.
The visit was led by CRF Director Professor  Martina Hennessy of the Wellcome HRB Clinical Research Facility and she was accompanied by Ms Mary Day, CEO of St. James's Hospital, Jim Meaney, Danielle Byrne and Peter Beddy from Diagnostic Imaging, Barry O'Connell and Ann-Marie McLaughlin from Respiratory Medicine, Vincent Young from the Department of Surgery and Cormac Kennedy and Jeremy Towns from the Clinical Research Facility.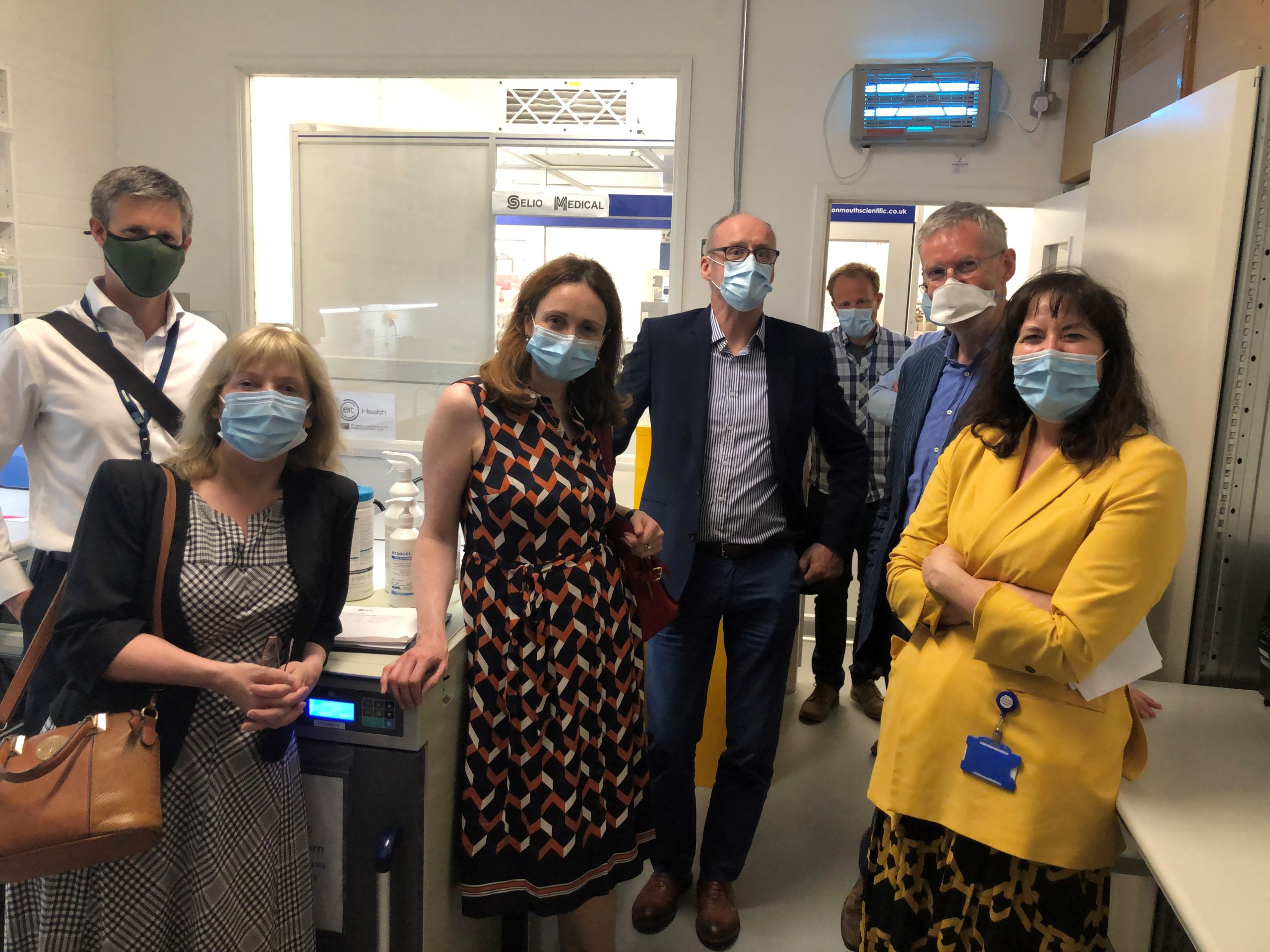 Picture from left to right Cormac Kennedy, Martina Hennessy, Ann-Marie McLaughlin, Barry O'Connell, Garrett Ryan (Selio), Jim Meaney and Mary Day in
Selio's GMP Manufacturing Facility located in the Guinness Enterprise Centre
08/12/2020 – Irish Times  https://www.irishtimes.com/news/health/irish-haemophilia-patients-given-functional-cure-1.4430168
05/03/2020 – Science  https://stm.sciencemag.org/content/12/564/eabb2830
07/10/2020 – Independent.ie https://www.independent.ie/breaking-news/irish-news/dublin-researchers-join-game-changing-gene-trial.html
01/09/2020 – Irish Examiner https://www.irishexaminer.com/news/arid-30985978.html